Retirement quotes for teachers are the best way of showing your thanks and appreciation when someone retires from this special job.  As a teacher, here are my top 3 favourite retirement quotes for teachers. 
Good teachers are the reason why ordinary students dream of doing extraordinary things!  It's your time to dream big now and try something new!  You will be greatly missed but enjoy your retirement!
Sadly, all great teachers need to retire one day.  You have left footprints on the hearts and minds of so many students! Enjoy your retirement!
Teachers reach deep inside their students and find their hidden strengths.  They never give up on students and believe passionately in their futures.  Now is the time to enjoy your future.  Enjoy retired life!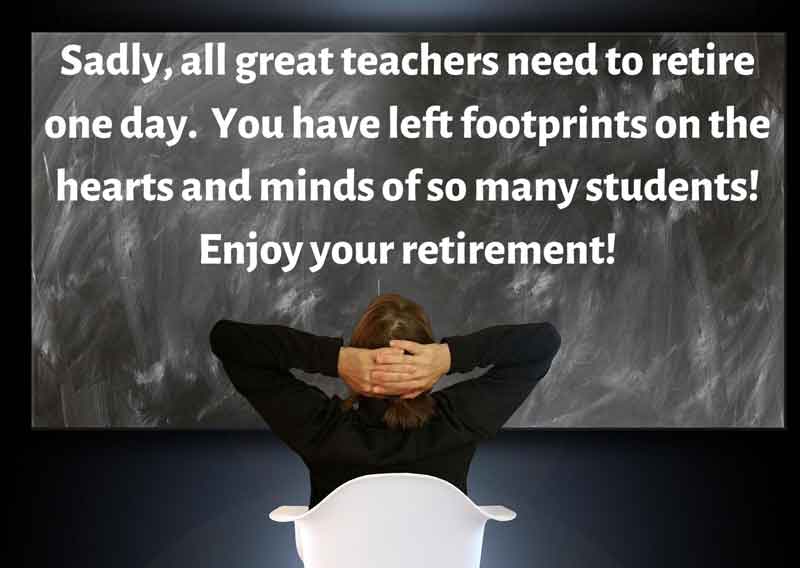 If I was retiring, these retirement quotes for teachers would touch my heart, make me feel valued and my years of service meaningful.  Teaching is a vocation and most teachers dedicate themselves to improving and changing the lives of their students.
Browse our comprehensive collection of the best retirement quotes for teachers and show you care by using a few well-chosen words.
Our List of 50 Memorable Retirement Quotes for Teachers
Undoubtedly, teachers leave a lasting impression on their students.  A great teacher is always remembered long after school years end.  Teacher retirement quotes are a great way of showing gratitude to a retiring teacher.
Teachers' retirement quotes can be used in a retirement card for teachers, in retirement speeches for teachers or on a retirement cake for a teacher.  If you are looking for more inspiration about retirement quotes, cakes and speeches, our other detailed posts may be of interest to you:
To help you find the perfect retirement wishes for teachers, here are 50 memorable quotes for retiring teachers: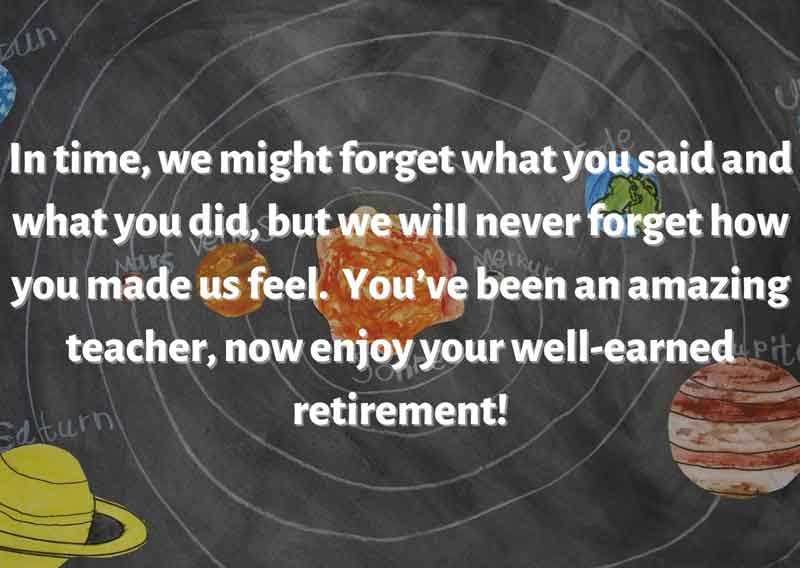 1. In time, we might forget what you said and what you did, but we will never forget how you made us feel.  You've been an amazing teacher, now enjoy your well-earned retirement!
2. Teachers touch the lives of so many students each year and leave a lasting imprint on each one for a lifetime.  Thank you for your years of guidance and support!  Enjoy your retirement!
3. It's time to forget the timetable and take time out for you! Enjoy your well-deserved retirement!
4. (Name of School/College) won't be the same without a teacher like you.  Thank you for your support and wisdom.  Here's to a retirement that is filled with happiness and fun!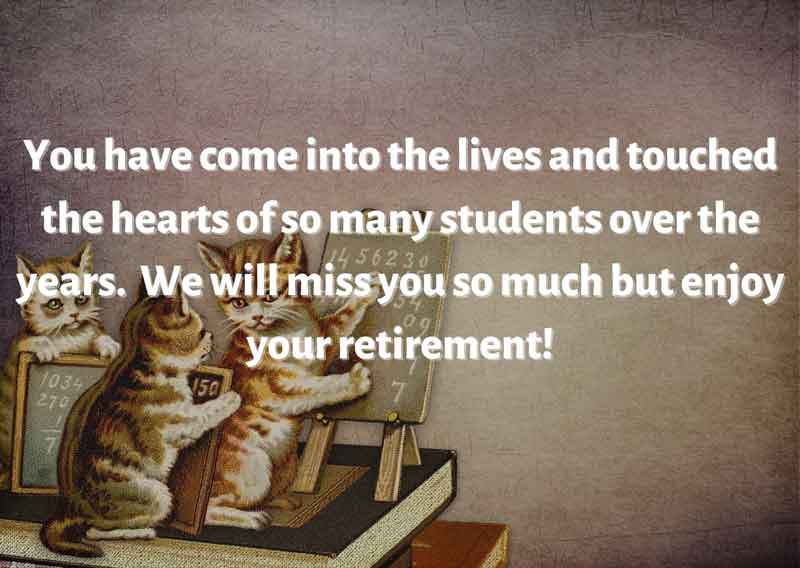 5. You have come into the lives and touched the hearts of so many students over the years.  We will miss you so much but enjoy your retirement!
6. Teachers patiently support and inspire so that students can grow and fulfil their potential.  Thank you so much for your passion and dedication to teaching!  Enjoy your retirement!
7. Thank you for your dedication to the teaching profession for (number) years.  It's time to put down your marking pen and enjoy retirement life!
8. A teacher like you can never really retire.  You may stop coming to school, but you will continue to inspire your students every day!  Happy retirement!
9. Enjoy your retirement secure in the knowledge that you have made a huge difference to (name of school/college) and the many students you have taught over the years.
10. Each year, you carefully nurture a new class and help them grow.  We will miss your patience, understanding and commitment but wish you all the best for your retirement!
11. Sadly, all great teachers need to retire one day.  You have left footprints on the hearts and minds of so many students! Enjoy your retirement!
12. Goodbyes don't really apply to great teachers because they will always be fondly remembered in the hearts and minds of their students!  Thank you for your passion and professionalism.  Happy retirement!
13. Contemplate infinity in a grain of sand and may your retirement always be golden!  Happy retirement!
14. Yes, you have helped your students read and write, but you've also made them wonder, question and explore.  Now, it's your time to discover and enjoy the world of retirement.  Enjoy every minute!
15. We will miss your contagious smile and enthusiasm.  You have helped so many children learn teaching them to always try their best and never give up.  Thank you for being such a fantastic role model over the years.  Enjoy your retirement!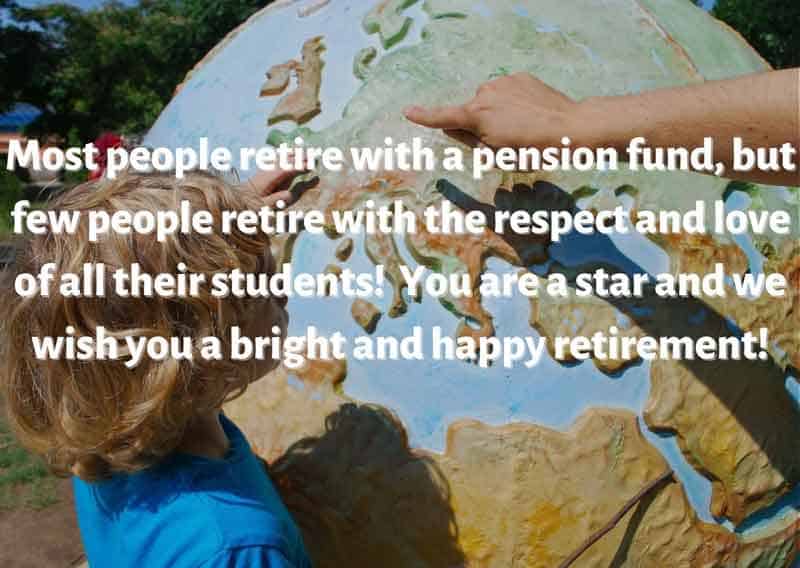 16. Most people retire with a pension fund, but few people retire with the respect and love of all their students!  You are a star and we wish you a bright and happy retirement!
17. Teachers reach deep inside their students and find their hidden strengths.  They never give up on students and believe passionately in their futures.  Now is the time to enjoy your future.  Enjoy retired life!
18. Teachers don't just instruct; they encourage and believe that their students can achieve.  Wishing you all the best on your retirement and may you achieve all of your hopes and dreams!
19. Good teachers are the reason why ordinary students dream of doing extraordinary things!  It's your time to dream big now and try something new!  You will be greatly missed but enjoy your retirement!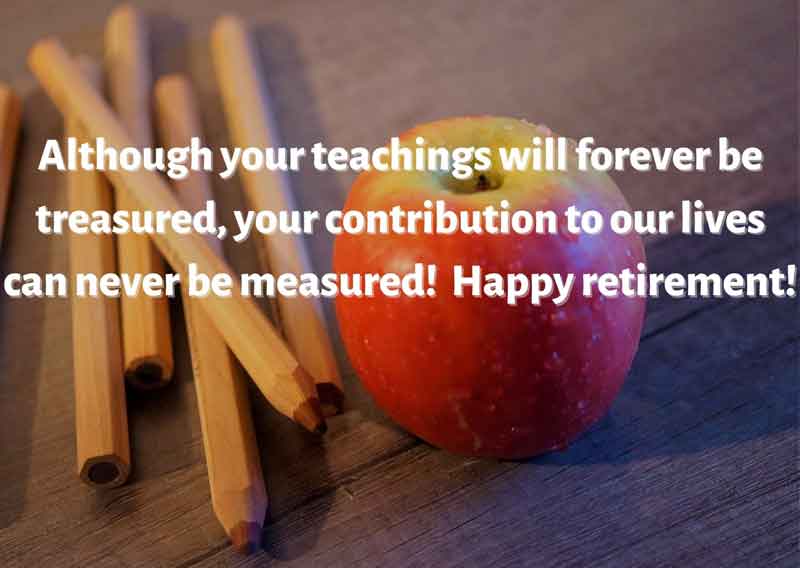 20. Although your teachings will forever be treasured, your contribution to our lives can never be measured!  Happy retirement!
21. It takes a big heart to help shape little minds.  Thank you and enjoy your retirement.
22. You are the kind of teacher who has inspired many.  We will miss you a lot, but we will always be grateful for your many years of dedicated service.  Happy retirement!
23. Teachers plant seeds of knowledge that grow forever.  Enjoy your retirement!
24. Old teachers never retire, they just grade away!  It's time to put down your marking pens and have fun doing the things you want to do in your retirement!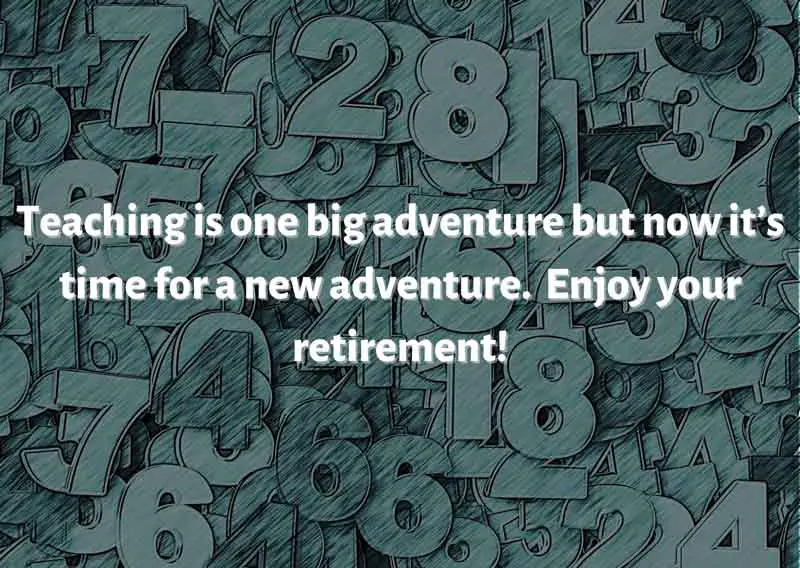 25. Teaching is one big adventure but now it's time for a new adventure.  Enjoy your retirement!
26. We will miss you in school, but the influence of a good teacher can never be erased.  Happy retirement!
27. You gave us much more than education.  You gave us endless inspiration which helped us to rise and soar!  We will miss you but enjoy your retirement!
28. The impact of a good teacher cannot be underestimated.  A teacher takes a hand, opens a mind, touches a heart and shapes a future.  We wish you a very happy future for your retirement!
29. To the world you may be just a teacher but to your students you are a hero! Congratulations on your well-earned retirement.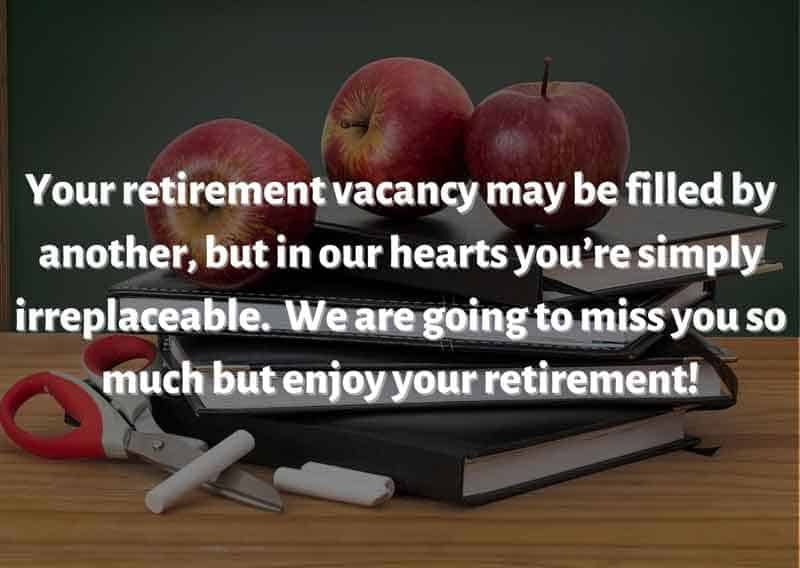 30. Your retirement vacancy may be filled by another, but in our hearts you're simply irreplaceable.  We are going to miss you so much but enjoy your retirement!
Heart-warming Retiring Teacher Quotes to Inspire Your Own Words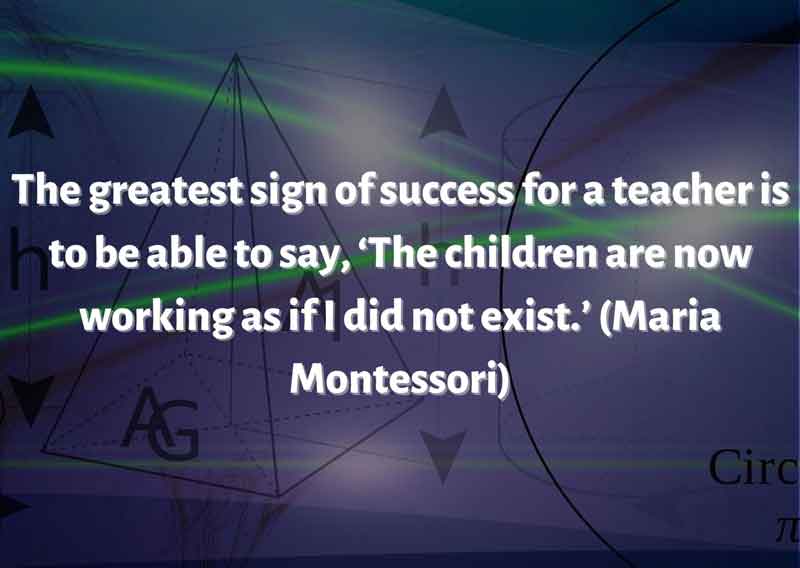 31. The greatest sign of success for a teacher is to be able to say, 'The children are now working as if I did not exist.' (Maria Montessori)
32. A teacher affects eternity; he/she can never tell where his/her influence stops. (Henry Adams)
33. A teacher is a compass that activates the magnets of curiosity, knowledge and wisdom in the pupils. (Ever Garrison)
34. A good teacher can inspire hope, ignite the imaginations and instil a love of learning. (Brad Henry)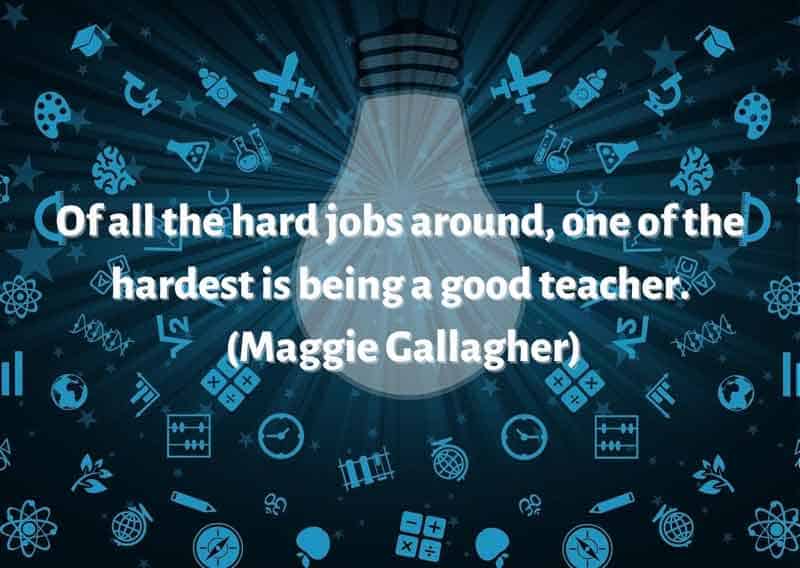 35. Of all the hard jobs around, one of the hardest is being a good teacher. (Maggie Gallagher)
36. Everyone who remembers his own education remembers teachers, not methods and techniques.  The teacher is the heart of the educational system. (Sidney Hook)
37. A truly special teacher is very wise and sees tomorrow in every child's eyes. (Unknown)
38. It is the supreme art of the teacher to awaken joy in creative expression and knowledge. (Albert Einstein)
39. Don't cry because it's over, smile because it happened. (Dr Seuss)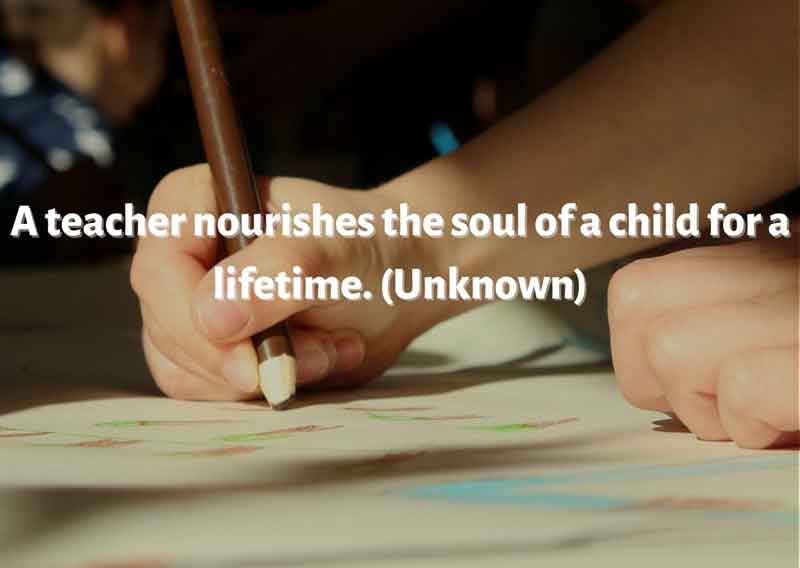 40. A teacher nourishes the soul of a child for a lifetime. (Unknown)
41. One looks back with appreciation to the brilliant teachers, but with gratitude to those who touched our human feelings. (Carl Jung)
42. Great teachers empathise with kids, respect them, and believe that each one has something special that can be built upon. (Ann Liberman)
43. Teaching is the one profession that creates all other professions. (Anonymous)
44. Being able to help someone learn something is a talent. (Margaret Riel)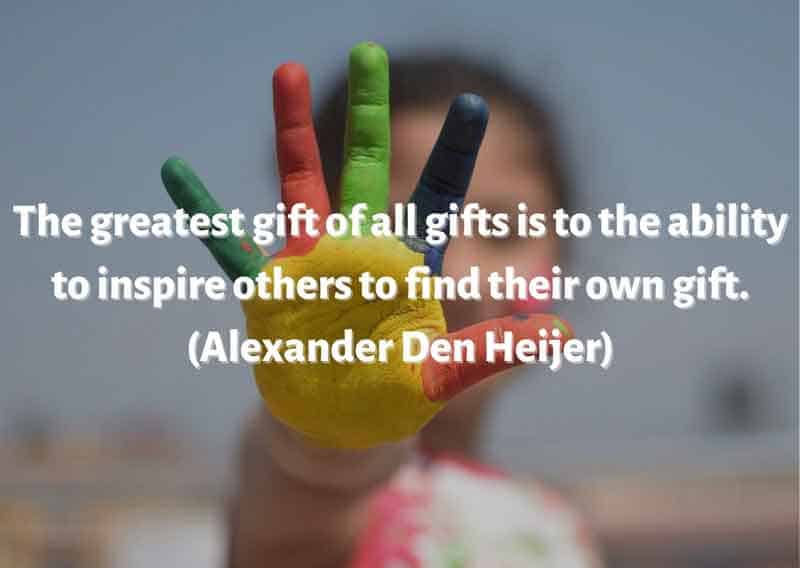 45. The greatest gift of all gifts is to the ability to inspire others to find their own gift. (Alexander Den Heijer)
46. Teachers teach because they care.  Teaching young people is what they do best.  It requires long hours, patience and care. (Horace Mann)
47. Teaching is a very noble profession that shapes the character, calibre, and future of the individual.  If the people remember me as a good teacher, that will be the biggest honour for me. (APJ Abdul Kalam)
48. The one who plants trees, knowing that he or she will never sit in their shade, has at least started to understand the meaning of life. (Rabindranath Tagore)
49. Not all superheroes wear capes, some have teaching degrees. (Unknown)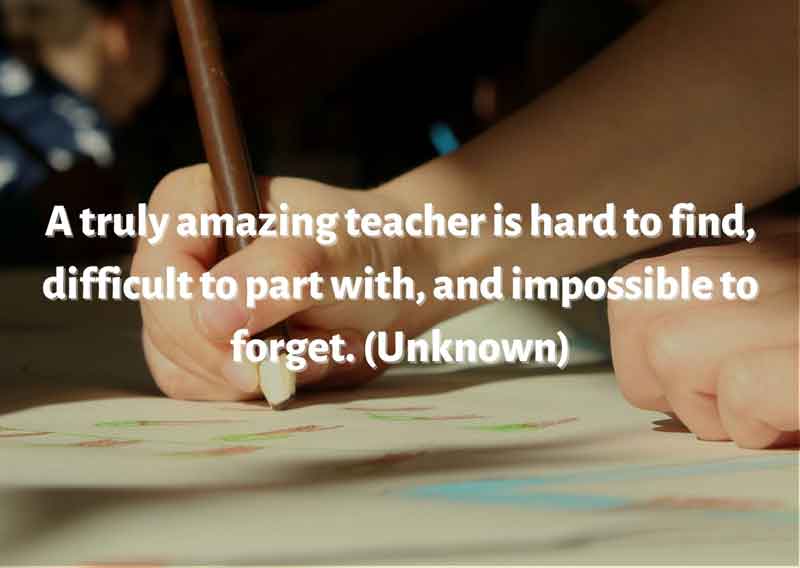 50. A truly amazing teacher is hard to find, difficult to part with, and impossible to forget. (Unknown)
What Do You Write in a Retirement Card for a Teacher?
A retirement card for a teacher is the perfect place to express your thanks and appreciation for a retiring teacher's professional contribution over the years.  Retirement quotes for teachers are the perfect way to express your sentiments and can make your job of writing a retirement card much easier.
Your choice of retiring teacher quotes will depend on whether you are the employer, a co-worker in an educational establishment or a student or parent.  Our list of 50 memorable retirement quotes for teachers should provide you with some inspiration.
Alternatively, you could select one of the following retirement poems for teachers.  Poems for retirement are a good way of bringing emotion to your retirement card for a teacher.
11 Unforgettable Retirement Poems for Teachers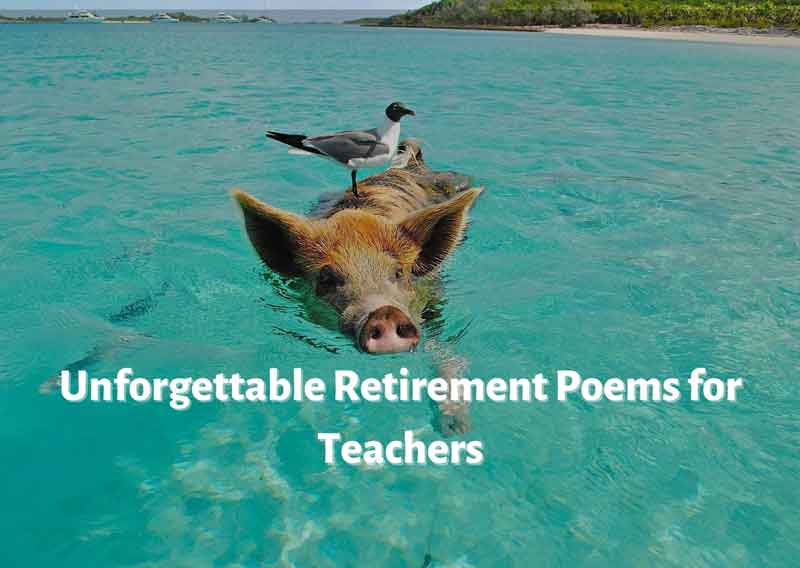 Teacher retirement poems are another way of thanking a retired teacher.  If you enjoy writing, poems are a fun and often emotive way of expressing retirement sentiments.  If you are a beginner, the easiest type of poem to write is an acrostic poem like the first retirement poem below.
TEACHER by Unknown

Thoughtful
Encouraging
Amazing
Caring
Hardworking
Enthusiastic
Resourceful
Acrostic poems are where the first letter in each line spells out a word or phrase.  This word or phrase is the subject of the poem (in this case a teacher!).  Acrostic poems are an easy choice of retired teacher poem because you can change the words to reflect your feelings.
If you are looking for a retirement poem for a teacher but don't want to write your own, here is our inspiring selection of unforgettable retirement poems. Use them to convey your teacher retirement wishes or as part of a teacher retirement gift.
2.      Teachers by Kevin William Huff  

Teachers
Paint their minds
And guide their thoughts
Share their achievements
And advise their faults Inspire a love
Of knowledge and truth
As you light the path
Which leads our youth
For our future brightens
With each lesson you teach
Each smile you lengthen
Each goal you help reach
For the dawn of each poet
Each philosopher and king
Begins with a Teacher
And the wisdom they bring.
3.      A Teacher for All Seasons by Joanna Fuchs

A teacher is like Spring,
Who nurtures new green sprouts,
Encourages and leads them,
Whenever they have doubts.

A teacher is like Summer,
Whose sunny temperament
Makes studying a pleasure,
Preventing discontent.

A teacher is like Fall,
With methods crisp and clear,
Lessons of bright colours
And a happy atmosphere.

A teacher is like Winter,
While it's snowing hard outside,
Keeping students comfortable,
As a warm and helpful guide.
 
Teacher, you do all these things,
With a pleasant attitude;
You're a teacher for all seasons,
And you have my gratitude!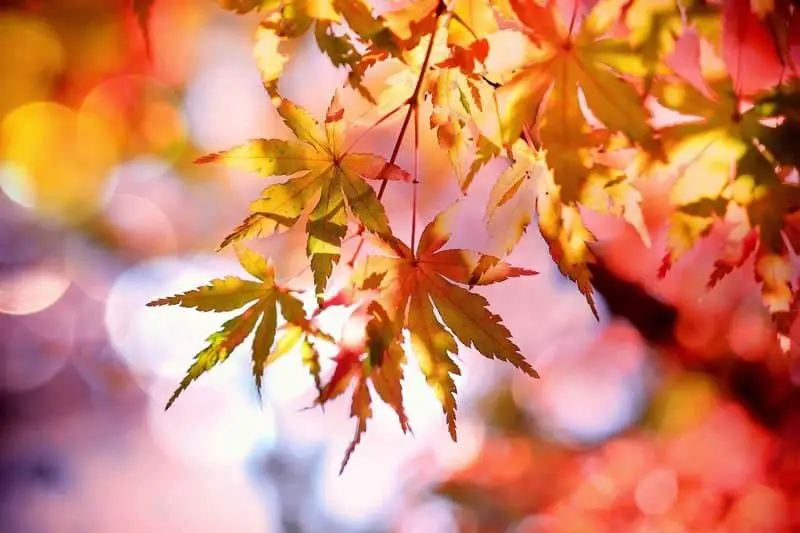 4.      For My Best Teacher … by Shashi Dhar Kumar

With a special gift for learning
And with a heart that deeply cares, 
You add a lot of love To everything you share, 
And even though You mean a lot, 
You'll never know how much, 
For you helped
To change the world
Through every life you touched.
You sparked the creativity
In the students whom you taught, 
And helped them strive for goals
That could not be bought, 
You are such a special teacher
That no words can truly tell
However much you're valued
For the work you do so well.
5.      Teachers by Thabiso Xulu

Who taught the world to read?
Not for money but a good deed
Taught us how to spell
And picked us when we fell  

Taught us how to count
Told us the world was round
Standing in front of creatures
All with different features
Preaching in sense of teaching
Helping reach dreams that need reaching

Doctors and lawyers
Even taught the rock stars
If the world were fair
Would have seen talent so rare

I love my teacher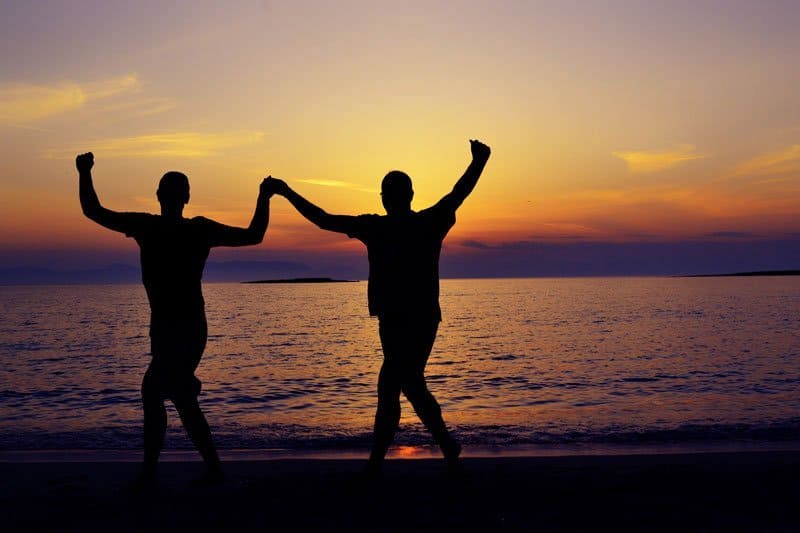 6.      Time to Do You by Island Whispers

The time we have spent together
Are cherished moments that we share
We offer you these encouraging words
That show how much we care.
 
Enjoy the sunrises and sunsets
And all that nature has to give
No more watching the clock
You only have one life to live.
 
Spend time with family and friends
They are the ones who really care
Don't forget your extended family
We will be waiting for you're here.
 
Take some time out to do you
Even if it means spending time alone
Remember that if you ever need us
You just have to reach for the phone.
7. Our Teacher's Multi-Talented by Kenn Nesbitt

Our Teacher's multi-talented.
He plays guitar and sings.
He paints impressive pictures
And can juggle with twenty rings.  

He dances like an expert,
He can mambo, tap and waltz.
He's also quite a gymnast,
Doing airborne somersaults.  

He's something of a swimmer.
He's a champion at chess.
t's difficult to find a skill
That he does not possess.  

He speaks a dozen languages.
He's great at racing cars.
He's masterful at fighting bulls,
And studying the stars.  

He's good at climbing mountains.
He can wrestle with a bear.
The only thing we wish he'd learn
Is how to comb his hair.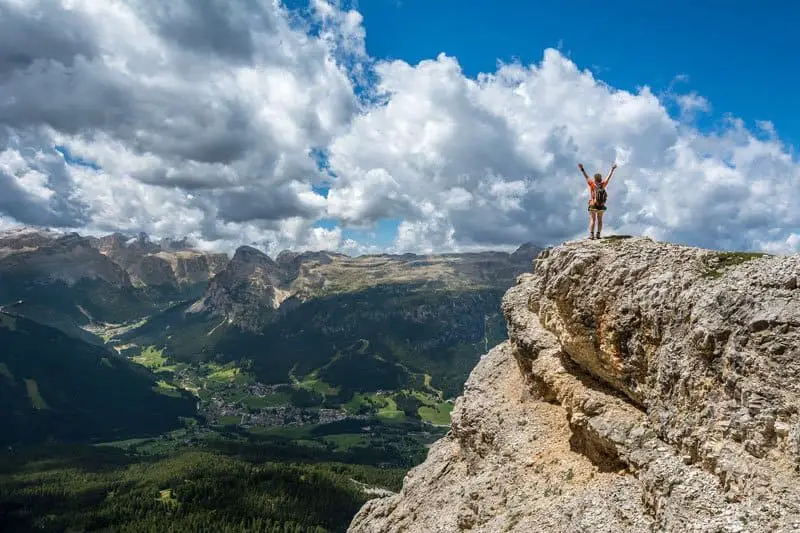 8.      Your Climb by tree.cards

You've been an excellent teacher,
that's obvious and clear.
Let's take a quick look,
at your educational career.
 
You've taught countless students,
with passion and zest.
Achieved so much,
and passed every test.
 
Many students that would,
pass through your door.
Were inspired by you,
to achieve and explore.
 
Your teaching style,
was one of a kind.
You nurtured and challenged,
each student's mind.
 
We would like to thank you,
for your service and dedication.
You'll continue to be,
a true inspiration.
 
We hope you enjoy your retirement,
and extra free time.
As you're looking from the top,
think of your climb.
9.      Some Teachers by Unknown

Some teachers are sweet
Some teachers are a delight
Some teachers are funny
Some teachers are always right
Some teachers are cute
Some teachers are boring
Some teachers are irritating
But you are hard to label
Because in every possible way
You motivate and inspire us
Day after day …
10.      I am a Teacher by John W Schlatter

I was born the first moment that a question leaped from the mouth of a child. Throughout the course of a day I am called upon to be an actor, friend, nurse and doctor, coach, finder of lost articles, money lender, psychologist, substitute parents and a keeper of the faith.
I am the most fortunate of all who labour.
I know that what I build with love and truth, will last forever.
I am privileged to see that life is reborn each day with new questions, ideas and friendships. And who do I have to thank for this wonderful life I am so fortunate to experience? You, the public and the parents who entrust to me their greatest contribution to eternity, their children.
I have wept for joy at the weddings of former students, laughed with glee at the birth of their children and stood with head bowed in grief and confusion by graves dug too soon for bodies far too young.
I have a past that is rich in memories, I have a present that is challenging, and fun, because I am allowed to spend my days with the future.
I am a Teacher and I am thankful for it every day.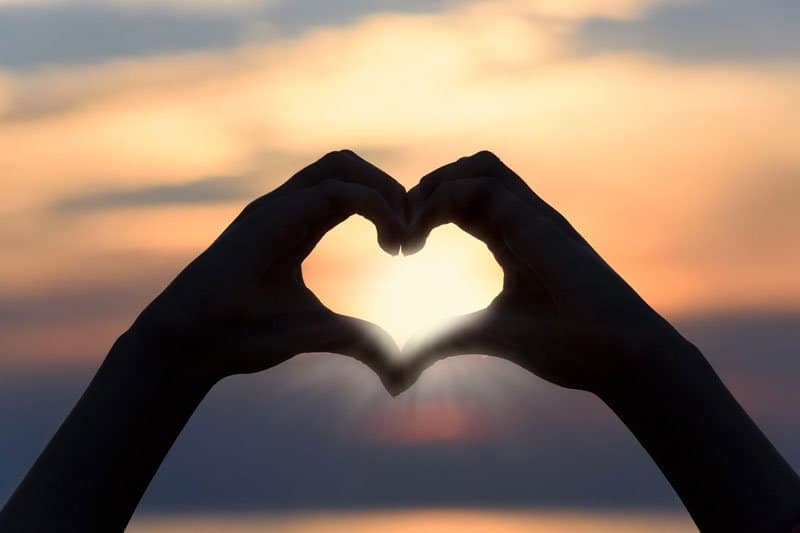 11.      Heart of a Teacher by Paula J Fox

The child arrives like a mystery box …
With puzzle pieces inside
Some of the pieces are broken or missing …
And others just seem to hide
 
But the HEART of a teacher can sort them out …
And help the chid to see
The potential for greatness he has within …
A picture of what he can be
 
Her goal isn't just to teach knowledge …
By filling the box with more parts
It's putting the pieces together …
To create a work of art
 
The process is painfully slow at times …
Some need more help than others
Each child is a work in progress …
With assorted shapes and colours
 
First, she creates a classroom …
Where the child can feel safe in school
Where he never feels threatened or afraid to try …
And kindness is always the rule
 
She knows that a child can achieve
Much more when he feels secure inside
When he's valued and loved … and believes in himself …
And he has a sense of pride
 
She models and teaches good character …
And respect for one another
How to focus on strengths … not weaknesses
And how to encourage each other
 
She gives the child the freedom he needs …
To make choices on his own
So he learns to become more responsible …
And is able to stand alone
 
He's taught to be strong and think for himself …
As his soul and spirit heal
And the puzzle that's taking shape inside …
Has a much more positive feel
 
The child discovers the joy that comes …
From learning something new …
And his vision grows as he begins
To see all the things he can do
 
A picture is formed as more pieces fit …
An image of the child within
With greater strength and confidence …
And a belief that he can win!
 
All because a hero was there …
In the HEART of a teacher who cared
Enabling the child to become much more …
Than he ever imagined … or dared
 
A teacher with a HEART for her children …
Knows what teaching is all about
She may not have all the answers …
But on this … she has no doubt
 
When asked which subjects she loved to teach,
She answered this way and smiled …
"It's not the subjects that matter …
It's all about teaching the CHILD."
For more retirement poetry ideas, you can check out this poetry website.
Related Articles: