Finding the perfect retirement gift for Mom is not an easy task.  Over the years, most Moms have put the needs of their family first and rarely reward themselves with personal gifts.  Retirement is therefore the perfect occasion to treat your Mom with a thoughtfully chosen gift just for her!
What is the Best Retirement Gift for Mom?
The best retirement gift for Mom is a well-chosen gift which matches what your Mom loves or enjoys doing, or which conveys how you feel about her.  One of the best retirement gifts for Mom is a unique Star Map Poster of her retirement date coupled with a stunning moon lamp!
This combination of presents conveys how much you love your Mum (to the moon and back) and is a unique and memorable choice of retirement gift.
To help you choose the best retirement gift for your Mom, we have searched online and compiled a great list of ideas.  Our selection includes gifts for various budgets, so we have organised them into the following categories:
Please note that Enjoy Retirement Life is a free website.  If you make a purchase using the affiliate links in this article, we make a small commission, but this is at no extra cost to you.  This allows us to continue creating great content for our readers.
Retirement Gift for Mom Under $50
Even if you don't have a huge budget, we have found some great retirement gifts for Mom under $50.  Remember that finding the perfect retirement gift for Mom is all about the amount of thought that goes into selecting it.  It's not about how much you give or spend but how much love you put into finding and giving the best retirement gift for your Mom!
1. Sentimental Retirement Key Chain
This Retirement key chain would make a great retirement gift for Mom.
Firstly, it is a useful and practical gift as Moms use their house keys and car keys every day!  The key chain has a rectangular fob engraved with a cute sentimental message: No one can ever fill your shoes.  It also has a heart shape engraved with the words: Enjoy retirement.   This key chain will be a daily reminder of you and your Mom's retirement!
Made from shiny metal, this key chain also thoughtfully comes with a small gift pouch which is a lovely extra touch for the price.  This is a small but beautiful gift that will make a huge and lasting impression on your Mom!
2. Stylish Stemless Glass with Engraved Retirement Message
If your Mom has a sense of fun and is a wine lover, this is a great choice of retirement gift.  The glass has a simple sleek shape and is laser engraved with the words: I can wine all I want – I'm retired!  The base is sturdy and will make sure that every drop of the 15 oz capacity is kept in the glass!
Although this glass has a reference to wine on the engraving, it is equally great for drinking beer, cocktails, soda or juice.  It could even be used as a candle holder for your Mom!
This glass is hand packed and bubble wrapped to make sure it arrives in perfect condition.
If you need help or inspiration with writing a retirement message in your Mom's card or on her retirement cake, check out our other useful articles:
3. Useful Waterproof Make-Up or Essentials Bag with Printed Retirement Message
For a similar price, this waterproof make-up bag with zipper is another great retirement gift for Mom.  It's pretty, practical and has a funny printed retirement schedule which is perfect for your retiring Mom.
This make-up bag is 9" wide by 7" high and is made from 100% waterproof material and linent in neutral colors with a printed design.
If your Mom isn't into make-up, don't rule this gift out!  It's great for storing all those small daily essential items which get lost in Mom's handbag: cell phone, keys, headphones, etc.  It's also perfect if your Mom is retiring and has travel plans!
4. Inspiring National Geographic 50 States, 5,000 Ideas Paperback Book
Now that your Mom has retired, she will have more time on her hands to explore and travel around the USA.  If your Mom is making travel plans for her retirement, this would make the perfect retirement gift.  You could even combine it with the waterproof make-up bag described above.
This is an illustrated paperback book from National Geographic.  The full title of this book is: 50 States, 5,000 Ideas: Where to Go, When to Go, What to See, What to Do.  If you gift this book to your Mom, she will have plenty of information about US states she may not have discovered yet.  The book includes useful information about parks, beaches, museums and much more.  It also has a section on Canadian provinces and territories.
5. Unusual and Eye-Catching Hand-Crafted Bookmark
If your Mum is looking forward to having more time to read in her retirement or belongs to a Book Club, one of these unique hand-crafted bookmarks would make a thoughtful retirement gift.
These unusual bookmarks are all hand-crafted from polymer clay and are painted with acrylic and varnish to make them attractive and long-lasting.  There is a wide range of bookmarks to choose from across the following collections: adventure, fantasy, animal and Christmas.
These stunning bookmarks are sure to please your Mom and will catch everyone's eye wherever your Mum chooses to read!  Here is one of my favourites but browse the collection at your leisure to find something which matches your Mom.
6. Celebratory Retirement Ladies T-Shirt
To celebrate your Mom's retirement this year, why not give her this fun and useful printed 100 % cotton t-shirt?  This round neck ladies t-shirt is printed with the word 'Retired', the current year and 'Not my problem anymore' which is perfect for a retirement gift for Mom. 
Your Mom is sure to enjoy wearing this t-shirt especially if you order it in her favourite colour!  The t-shirt is available in asphalt grey, slate grey, white, baby blue, cranberry red, silver grey and heather grey.
7. Relaxing Bluetooth Wireless Sleeping Eye Mask
To help your Mom relax and sleep better now that she has retired, these sleep headphones by Musicozy could be just the retirement gift you are looking for. 
This Bluetooth wireless sleeping eye mask combines great sound quality headphones with a cool and comfortable eye mask.  Your Mom can listen to her favourite music or audio book, block out the light and drift off to sleep.  This is a great retirement gift for any Mom who needs to relax and forget the stress of work or who loves to travel.
The eye mask pairs with any Bluetooth enabled smartphone or tablet within 33 feet and has a quick 1-2 hours charge which gives 10 hours playing time.  The eye mask is made from a premium memory foam with a smooth ice silk lining which is breathable and skin friendly.
8. Stunning Moon Lamp with Wooden Stand
Do you love your Mom to the moon and back?  If so, this is a really cool and unique gift which she will love!  It would look great anywhere in the house or as a soft nightlight in her bedroom.
This beautiful moon lamp by Mydethun looks like a real miniature moon when it glows!  This is because the surface of the moon has been made using 3D technology and the lamp has a dual colour feature: warm and cool white.  A touch control changes the colour of the lamp and adjusts its brightness.
This distinctive moon lamp is 4.7" high with the stand but three other sizes are available along with other choices of base including a ceramic hand.  The lamp is made from eco-friendly materials and has a rechargeable battery (4-8 hours of life after a 2-3-hour charge).  The moon lamp comes with a wooden stand, USB charging cable, gift card and box. 
9. Collectible Willow Tree Sculpted and Hand-Painted Figure (Happiness)
If you want to give your Mom a gift on retirement which is a lasting memory of the occasion, ornaments are a great choice.  Willow Tree make a popular and collectible set of sculpted and hand-painted figures in polyresin.
This particular Willow Tree figures is called Happiness and comes with a sentiment card which says: FREE to sing, laugh, dance … create!  This is a perfect retirement message for your Mom.
The Happiness Willow Tree is a standing figure which is 5.5" high.  The figure wears a cream dress with three bluebirds perched on outstretched arms.  The pose and sentiment card perfectly sum up the freedom your Mom will hopefully experience from being retired!
10. Sophisticated Retirement Necklace
If your Mom is retiring and loves jewellery, this retirement necklace could be the perfect retirement gift for her.  What's more, this retirement necklace comes in a great range of designs so you can personalise your choice to your Mom.  You can choose from:
2 interlocking circles in rose gold
2 linked circles in gold or silver
compass design in rose gold or silver
infinity cross silver
tree in rose gold or silver.
The necklace chain length is 18" plus a 2" chain extender with lobster claw clasp.  Conveniently, the necklace is presented in a retirement gift box with this heart-touching and sentimental retirement message:
Time goes by so very fast, it's so hard to believe.  It's time for your retirement. Time for feeling free.  You've worked so very hard to make this dream come true, and no one deserves it any more than you. You have had some rough times. You made it through them all.  You made the best of what life brings, and, today, you're standing tall.  I wish you days of happiness not filled with any strife.  I hope that your retirement years are the best years of your life. Congratulations and enjoy!
In addition to the necklace and gift box, this gift also includes a soft black velvet bag and blank note card with matching envelope for your personal message to the retiree. 
Related Articles:
Retirement Gift for Mom Under $100
If you have a slightly higher budget for your retirement gift for Mom, take a look at our unique selection of retirement gifts under $100.
1. Themed Retirement Gift Basket
Themed Retirement gift baskets are a great retirement gift for Mom as they can be personalised easily.  There are plenty of different gift baskets to choose from to match the tastes and interests of your Mom.  Here are a few suggestions:
The Grand Slam Tennis Gift Basket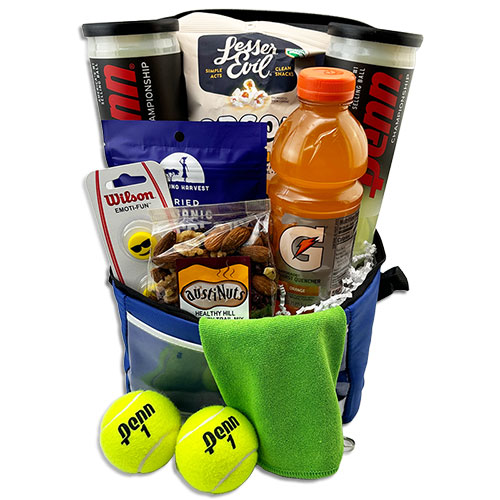 The Grand Slam – Tennis Gift Basket
from: Design It Yourself Gift Baskets
If your Mom loves to play tennis, this is the perfect retirement gift basket for her.  It includes a tennis towel, racket de-vibrator, 2 cannisters of Penn tennis balls, snacks and drinks.  Basically, everything your Mom will need down at the tennis court now that she has retired.  This gift also arrives in a handy 6 can cooler bag!
There are plenty of other retirement gift baskets to choose from on this website and you can even design your own!
2. Unique Star Map Poster
Another unique retirement gift for Mom is a star map poster.  This poster shows the exact position of the stars in the sky at special moments.  The poster is quick to create and you can include the location and time of your Mom's retirement to make it a special and meaningful gift.
The star map poster can also be personalised with a message and you have a choice of colour (black or blue).  This star map poster looks stunning and comes in a variety of sizes with frames available.
This retirement gift for Mom would beautifully complement the moon lamp described in the under $50 category!
3. Elegant 3D Crystal Heart Ornament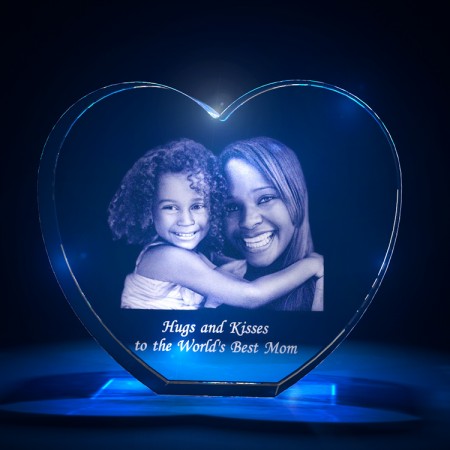 If you are looking for an impressive and memorable retirement gift for Mom, this 3D crystal heart sounds the perfect choice.  Why not capture a special moment with your Mom inside this elegant heart-shaped crystal ornament?
The 3D image of your photograph is guaranteed to last a lifetime and is made from 100% crystal.  The 3D crystal heart is available in different sizes and you have the option of having a free personal message engraved as well! 
To highlight the beauty of this ornament, you can also purchase a striking LED base to illuminate the 3D crystal heart at night!  This gift is sure to receive many compliments.
Retirement Gift for Mom Under $150
If you want to splash out on a special retirement gift for Mom, browse through the following hand-picked selection of retirement gifts:
1. Impressive Swarovski Crystal Tennis Bracelet
Most Moms love jewellery, so the Swarovski Women's Attract tennis bracelet is sure to be a winning retirement gift!  This is a luxurious looking gift and has the quality backing of the Swarovski name.
The bracelet is made from rhodium plated silver and is lined with sparkling white crystals and has a secure clasp.  It measures 6 3/8" or 17 cm in circumference and comes in an elegant Swarovski bracelet box.
Although this bracelet is made from crystals, it almost resembles a diamond bracelet so is sure to impress your Mom!
2. Luxurious Michael Kors Women's Jet Set Crossbody Bag
Another special and luxurious retirement gift for Mom is this Michael Kors bag.  If you want to treat your Mom to something she will treasure and use forever, why not give her this Michael Kors Women's Jet Set Crossbody bag on her retirement?
This stylish bag has a zipper closure and two open pockets.  It measures 9.5" in length, 6.5" in height and is 2" wide.  For maximum comfort, this Michael Kors bag has an adjustable shoulder strap from 20-26".  It also comes in a wide choice of colours so you will be able to pick out your Mom's favourite!
3. Comforting Double Hammock with Steel Stand
Retirement is definitely a time to relax and enjoy the outdoors.  What better way to celebrate your Mom's retirement than to give this hammock as a retirement gift?  Your Mom will be able to enjoy lazy retirement days in her hammock with her partner, relative or friend.
The Vivere double polyester hammock is quick to assemble and features a 9ft space saving steel stand.  The hammock has a 450lb capacity and includes a smart and useful carry/storage bag.  Furthermore, the hammock material is water repellent and has adjustable hammock hooks so that your Mom can set how low or high she wants her hammock to be!
Retirement Gift for Mom Above $150
This is the last category of our retirement gift for Mom selection and includes premium gifts which we know your Mom will love and find useful!
1. Therapeutic Full Body Massage Chair Pad
What better way to show you care than to give your Mom this Snailax kneading full body massage chair pad with neck and back massager when she retires?  This is an ultimate premium gift for your Mom.  It's relaxing, pampering and therapeutic!
The Snailax full body massage chair pad is portable and easy to use.  It fits to any chair in the home whether it's a dining chair, sofa, couch or recliner. 
The chair pad features 8 flexible shiatsu rollers for deep tissue massage and heat therapy to relieve aches and pains and improve blood flow.  In addition, there is an adjustable neck massager with 4 shiatsu rotation nodes which can be adjusted. 
To pinpoint relaxation and have maximum impact for each individual, the chair pad also has a customized spot massage system with 3 massage zones.
This retirement gift for Mom has the benefit of being therapeutic and relaxing!  What a fantastic start to retirement!
2. Adventurous GoPro Hero 11 Waterproof Action Camera
Most Moms love capturing special moments in photographs and on video.  At the moment, your Mom may be using her smartphone to do this.  Why not take this to the next level now that she has retired and give her the GoPro Hero 11 waterproof action camara as an unforgettable retirement gift?
This is a great choice of retirement gift for Mom if she is planning to travel or spend more time with her family and grandchildren.  The GoPro Hero 11 is compact, highly portable and robust. 
Despite its small size, the GoPro Hero 11 takes great quality 5.3K60 Ultra HD video and 27MP still photographs.  The camera also has an easy to navigate touch screen and can even be used underwater to capture those unforgettable moments!
3. Ring Video Doorbell 4
This choice of retirement gift for Mom will help keep your Mom safe and help her feel secure. The Ring Video Doorbell 4 is a gift which has many uses in today's modern homes!
Firstly, the Ring Video Doorbell Pro will let your Mom see, hear and speak to people from her phone, tablet or selected Echo device.  She will also be able to receive motion notifications and check in on her home if she is away for the day or travelling through the Live View function on the Ring app.  This doorbell connects easily to existing doorbell wiring.