Unique retirement gifts are hard to find and it takes time to hunt for that perfect retirement gift.  If you are searching for a unique retirement gift for a family member or a co-worker, then look no further! Our hand-picked list of unique retirement gifts will ensure that you select the perfect gift for your retiree. 
In addition, this article will provide you with some useful advice on how to find a great gift for any occasion.  Finding the perfect gift for someone is difficult at the best of times.  However, retirement is a once in a lifetime event and you don't want to purchase the wrong gift.  This article will help you find memorable and unique retirement gifts to mark this important milestone.
How to Find Unique Retirement Gifts.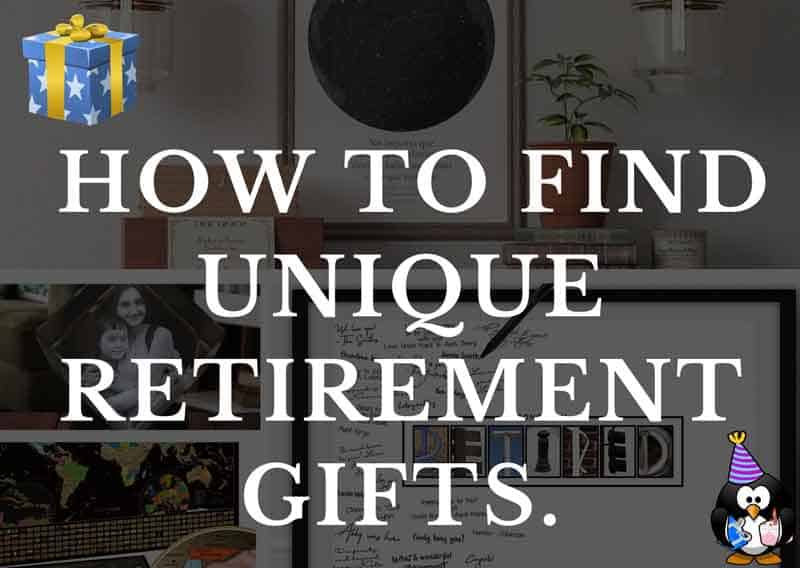 First, determine what kind of gift you want to give the retiree.  Do you want to give a classic or traditional gift?  Do you want to give a personalised gift?  Do you want to give something practical and useful?  Do you want to give something funny?  Do you want to give something unique and original?
Think carefully about the purpose of your retirement gift.  For example, a traditional retirement gift is a watch.  This is because it is a symbol of the retiree's years of service and a reminder of the passage of time. 
However, on retirement, the retiree escapes the rat race, so time becomes less of an issue.  So, why not combine a watch with smart health and fitness tracking technology to make an extremely useful retirement gift?
Unique retirement gifts can be useful.  You do not want to waste money on a retirement gift that the new retiree will keep hidden away in a drawer.
Retirement gifts related to the retiree's hobby will certainly make a good gift for him or her.  The retiree will use your retirement gift regularly and remember you.  For instance, many people like to read, so a Kindle reading device would make a perfect retirement gift.
To help you find the best ideas, we have created a hand-selected list of unique retirement gifts in four different categories:
Please note that Enjoy Retirement Life is a free website.  If you make a purchase using the affiliate links in this article, we make a small commission, but this is at no extra cost to you.  This allows us to continue creating great content for our readers.
Unique Retirement Gifts Under $100
You do not need to spend a lot of money to find unique retirement gifts.  Below is a selection of the best unique retirement gifts for less than $100.
1. Unique Retirement Gifts for Travellers – World Scratch Map
Personally, I love to travel.  I received this scratch map as present and love it.  Your retiree can display this attractive map on their wall and scratch off new countries each time they visit.  The recipient of your gift will enjoy seeing where they went on the map, and they can also plan where they want to go next.
The bonus with this map is that the retiree will receive two maps.  One large scale map of the world and another of the US. These maps are easy to scratch with the tool provided.
2. Unique Retirement Gifts for Beer Makers
This beer brewing kit is perfect for a retiree who is looking for a new challenge.
To avoid being bored in retirement, it is important to find an interesting occupation.  Making beer is challenging and requires time which makes it the perfect retirement gift for new retirees.
With this home beer brewing kit, your retiree will be able to produce their first American amber ale.  Inside the kit, the retiree will have everything they need to start home beer brewing.  Perhaps they will invite you round to sample and share their brewing success!
To read more about retirement hobbies, check out some of our other useful articles:
3. Unique Retirement Gifts for Book Lovers
If you have a small budget, a well-chosen book might be the perfect choice of retirement gift.  Most people love to read a good book, so we have selected a range of unique retirement book gifts to please your retiree.
Retirement: The First 365 Days: Advice, Opinions, Observations
To give your retiree an insight into what it is like to be retired, this book provides motivation and advice for an entire year.  The book has 365 pages – one for each day of the year.  This unique retirement gift covers the process of retirement including expectations, purpose, relationships, physical health, community and family.
101 Fun Things to Do in Retirement
This is the perfect book to help your retiree stay busy and avoid being bored in retirement.  This useful book is full of ideas of what to do when someone retires.  Some of the ideas are obvious but it also includes some unique retirement activities. 
This book is a fun retirement gift.  Naturally one person's idea of fun things to do in retirement is different to someone else's. 
Click on the link below and explore inside the book to give you a better idea.
Keys to a Successful Retirement: Staying Happy, Active, and Productive in Your Retired Years
This guide is an introduction to retirement and will help the retiree get off to a great start with the best part of their life. This book answers a lot of questions newly retired people may have and helps them to get the most out of their retirement.  Reading this book will help your retiree save time and money.  They will find practical tips and all the things they need to be happy and enjoy retirement life.
Click on the link below and explore inside the book to give you a better idea.
50 States, 5,000 Ideas: Where to Go, When to Go, What to See, What to Do
Being retired means that your retiree now has more time on their hands.  How many people can actually say that they have explored the US?  This book will help your retiree to discover hidden gems in the US and will give them 5000 ideas of things to do and see.
Why not suggest that your retiree creates their own bucket list from this book so that they can explore the best of the US in their retirement.
If you would like some additional information about retirement bucket lists, you may enjoy reading our previous post which features categorised Best Retirement Bucket List Ideas.
Kindle Reader Bundle
Books can take up a lot of space and are heavy when you travel.  If your retiree enjoys travelling, the solution is a Kindle reader.  I have one and it is brilliant.  You can read on the beach without glare, increase the size of the text easily and store a whole library of reading material and books inside.
This Kindle essentials bundle is the latest one.  It comes with a front light and you can choose between two different covers.  In addition to being practical, your retiree will find eBooks are less expensive than paper and hard back books.
4. Unique Retirement Gifts for Lifelong Memories

Personalized Star Map Gift
from: Star Register (Online StarMap)
These star maps posters are an extremely original idea which will make a unique retirement gift for a loved one or for a friend or colleague.  Each star map is completely unique as it shows exactly how the stars were placed in the sky on the date, time and location of the retiree's retirement. 
You have the option of personalising your sky map with or without the Milky Way and a colour choice of black or blue.  These star maps are easy to create online and can be personalised with a message and frames are available for some sizes!
If you are looking for a truly original gift, don't miss out on ordering this star map for your retiree!  It will make a truly memorable and lifelong gift!
Related Articles:
Unique Retirement Gifts Under $150
Below is our choice of unique retirement gifts under $150.  Number two is my favourite.
1. Unique Retirement Gifts for Sport Lovers
This gift will be the best companion for your retiree if they love to jog, walk or go to the gym. I bought these wireless in-ear headphones and I highly recommend them.  They fit perfectly into my ears and stay perfectly in position during my sporting activities. The quality of the sound is also impressive, and there are no wires which gives complete freedom of movement and comfort.
The best feature of these headphones is that they come with a clever case. The case keeps the headphones safe and easy to transport.  In addition, the case provides two additional full charges to keep the headphones charged when your retiree needs them.
These wireless headphones are compatible with iPhone or Android.  The app has many features and you can even find your headphones with it if you lose them!
2. Unique Retirement Gifts for Film Makers
As I hinted above, this unique retirement gift is my favourite because I travel a lot and love to do filming.  For a long time, I used a high-end camera, and my results were good but always a little bit shaky.  With the DJI OM4, you have plenty of filming possibilities and the results are perfectly stable.
Face detection technology allows the gimbal to follow your subject whether they are adults, children or even pets.  The gimbal also permits many great creative effects which deliver the Hollywood feel with no effort.  In addition, this gimbal comes with a tripod which you can control with gestures to start video recordings.
The new and innovative magnetic support makes it easy to mount and dismount your retiree's smartphone.  The DJI OM4 is compatible with most smartphones.  Click on the link below to check if you have a compatible smartphone.
3. Unique Retirement Gifts for Film Lovers
A big TV screen is a good way for retirees to appreciate movies at home, but for the perfect experience you need to have great sound effects.  The Polk Audio ultra-slim TV sound bar would be the perfect addition to your retiree's existing TV.
Interestingly, most sound bars do not have a subwoofer but this one does.
Why Is a Subwoofer Important?
The sound bar alone is not big enough to produce quality bass.  For this, you need bigger speakers, and this special speaker is called a subwoofer.
The Polk Audio sound bar comes with a wireless subwoofer.  This means that your retiree will not need to run cables around their room which is a plus.
Another good point about this sound bar is that your retiree will be able to listen to their favourite music directly from their smartphone or tablet or other people's devices via Bluetooth.
Unique Retirement Gifts Under $200
1. Unique Retirement Gifts for Tech Lovers
The VGAzer magnetic floating wireless LED light bulb lamp is a truly cool and unique retirement gift.  Using magnetism, the LED light bulb levitates and gives light without any support or contact.  In addition, the base is a wireless charger for smart phones!
The lamp looks stylish and is easily controlled by a touch button on the wooden base.  In the event of a power cut, the bulb is immediately captured by the arm of the lamp. 
This stunning lamp would be a great addition to the retiree's desk, home office or any other room in their home.  It is sure to be a memorable gift which will be a great talking point with visitors.
2. Unique Retirement Gifts for Relaxation Seekers
If you want to give your retiree a therapeutic and relaxing gift, why not consider a Snailax Shiatsu massage pad?  This massage pad is highly portable and can be used on the retiree's sofa, couch, recliner, office chair or dining chair.  It is secured in place with an integrated strapping system.
This massage pad has soft gel massage nodes and 4 deep kneading massage nodes which massage the back to relax and relieve pain.  In addition, the massage pad features 3 adjustable levels of vibration for the hip and thighs and soothing heat therapy to the back.
This could be the perfect retirement gift, if you are looking for a unique retirement gift that no-one else will have thought of!  It offers relaxation when they first retire and is therapeutic as the retiree ages and those aches and pains set in!
3. Unique Retirement Gifts for Wine Lovers
This special gift from Sommailier involves a shipment of 6 exclusive bottles of French wine.  You can choose whether your retiree receives red or white wine only or a mixture of both.  You can also customise whether this is a one-off shipment.  Alternatively, there is a choice of regular quarterly shipments.
In addition to the wine, the retiree will receive wine cards which describe each wine, the region of France it originates from and information about the vineyard and winemaker.  The first shipment includes a personalised gift card with a message of your choice to the retiree.
Unique Retirement Gifts Above $200
1. Unique Retirement Gifts to Keep You Fit and Healthy
We all appreciate the importance of keeping fit and healthy in retirement.  This unique retirement gift has many useful and practical applications for retirees. 
Firstly, the Fitbit is a smart watch.  In addition to telling the time and date, it can be used in conjunction with Google Assistant or Amazon Alexa to get quick news, set alarms and control smart home devices.  This Fitbit will also allow your retiree to monitor their heart rhythm, oxygen levels, skin temperature and stress levels.  If your retiree loves the outdoors and runs or hikes, this watch has built-in GPS and tracks pace and distance.
2. Unique Retirement Gifts for Lovers of the Outdoors
If your retiree loves exploring new landscapes outdoors and photography or filmmaking, the DJI Mavic Air 2 Drone Quadcopter would make a unique retirement gift as it combines both.  Alternatively, why not introduce your retiree to a new hobby by buying them their first drone? 
The Mavic Air 2 drone has a powerful camera which can capture unique aerial photographs (48MP) plus 4K HD video and 8K Hyperlapse.  The drone can fly for an impressive 34 minutes.
Even if your retiree has never flown a drone before, the Mavic Air 2 has automatic obstacle avoidance and is easily controlled by their smart phone. 
3. Unique Retirement Gifts for Memory Makers
The GoPro Hero 9 is another unique retirement gift.  Now that the retiree is not working, they will have more time to enjoy their family and grandchildren and explore the US or wider world.  With this unique retirement gift, the retiree will be able to capture unique and special memories which will last a lifetime.
The GoPro Hero 9 is an extremely compact and portable waterproof action camera which takes 20MP still photographs and records 5K Ultra HD Video.  It is easily operated with a rear touch screen.  The GoPro Hero 9 would make a truly memorable retirement gift!
4. Unique Retirement Gifts for Music Lovers
If your retiree loves music, listening to podcasts or streaming films, why not treat them to these stylish Bose noise cancelling over ear wireless headphones?  They have 11 levels of active noise cancelling which will allow the retiree to be immersed in sound without distractions.
In addition, these wireless headphones will allow the retiree to answer their phone by simply tapping on the earcups.  These smart headphones are also made to be comfortable and will last up to 20 hours on a single charge.