Retirement party invitation wording is one of the key parts of how to organise a retirement party. Organising a retirement party can be stressful, if you have never arranged one on your own before.  To help you get a head start, I am going to help you tick off the retirement party invitation for FREE.
Planning a retirement party can cost a lot. You can spend a lot of money on the venue, food and drinks, but you can save a lot of money with the invitations.

Of course, you want to prepare the best retirement party for your loved one, or your best friend. In this guide, you will find:
How to write a retirement invitation
Best practice for wording for a retirement invite
How to use free online software
Examples of wording for retirement party by profession.
How to Write the Retirement Party Invitation Wording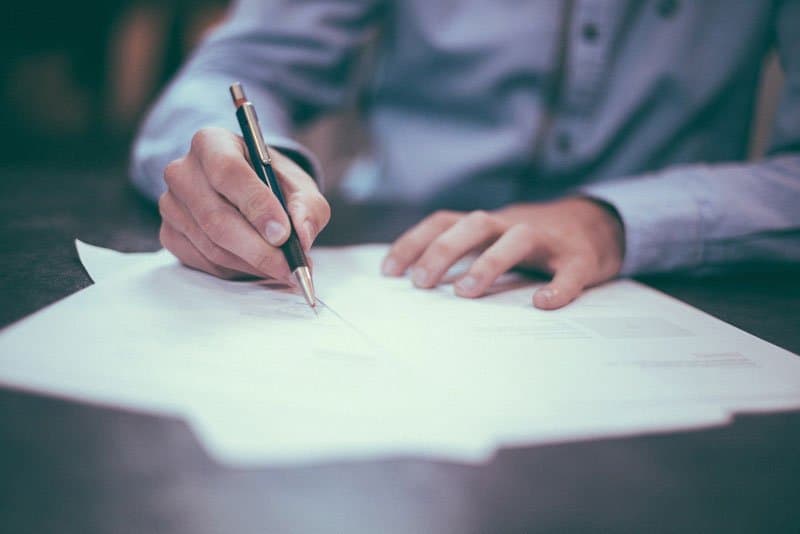 To write the perfect retirement party invitation, you need to make sure you follow the right etiquette.  Retirement party invitation Wording is different for each profession.  Also, you are not going to use the same format for an informal retirement invitation and formal one.  At the end of this post, you will find many examples.
The retirement party invitation needs to be short but you need to make sure all the detail is inside to avoid any confusion.
What to Include in the retirement party invitation?
When you receive an invitation to a party, you need the answers to these questions:
Where is it?
When is it?
What is the party for?
Is there a theme?
Who to reply to?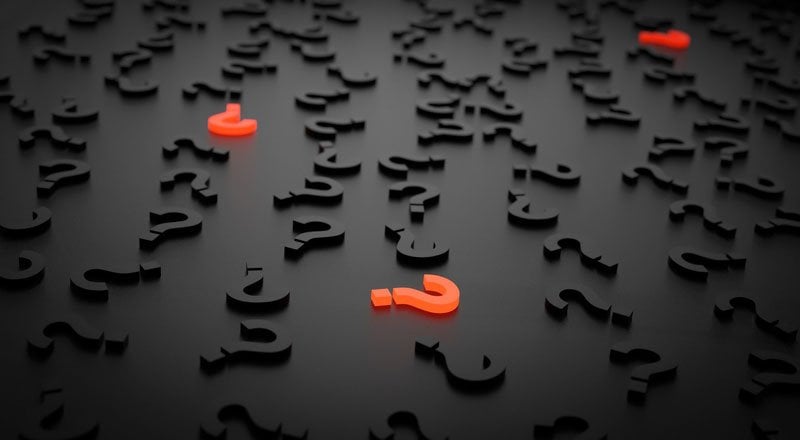 You need to give precise instructions in your retirement invitation to avoid any confusion.  If you have a theme, you need inform guests about the dress code.  Otherwise people won't know what to wear and will feel uncomfortable if they arrive and are not dressed appropriately.
Location: Usually the address and post code are enough for people to find the location.  However, if the place is difficult to find, you can add some clear directions or tell guest to follow the signs to "John's Party".   Adding signs on the road is extremely helpful and you avoid adding a lot of extra text to the wording for retirement invite.
Date/Time: This sounds obvious, but people often forget to include this vital information.  Remember to send the invitations out in advance.  This will leave enough time for guests to check their plans and maybe reschedule other commitments so that they can attend the retirement party.
Reason: You need to explain the reason for the party and who it is for.  Once again, it may be clear for you and close family, but this may not be the case for a work colleague.
Remember that the wording of retirement party invitation sets the tone of the retirement party.  It can be funny or more corporate depending on your theme.  The invitation is the first thing people will see and they are going to form an opinion about the event straight away.
Theme: You need to tell people if there will be a theme for the retirement party, and again this needs to be made clear.
Dress Code: If you want a dress code, you need to tell the guest.  This is especially important if you want to have a theme.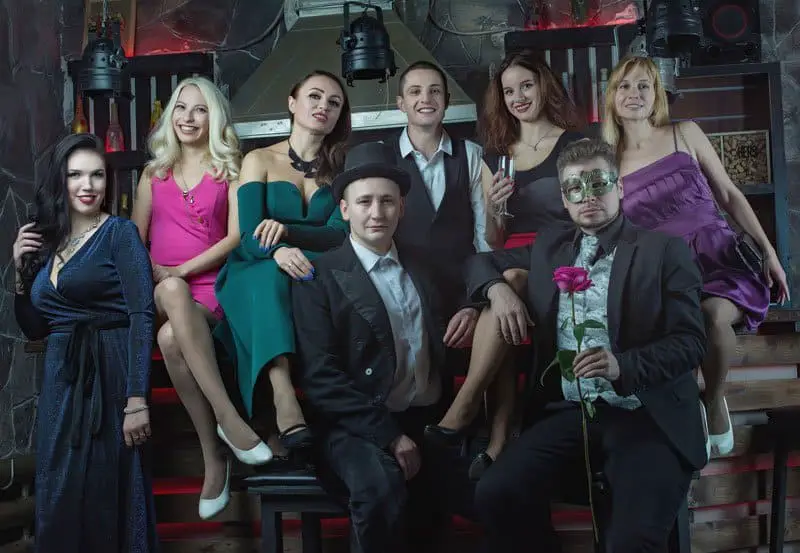 Gifts: Just add a note if you do not want gifts or if you prefer guests participate in donating to a charity fund raising page.
Related Articles:
Response: Ask your guests to respond to by post, email or telephone.  This will enable you to organise the size of venue and catering.
Since so many people have food allergies and food intolerances, it is also sensible to ask guests to let you know if they have a special dietary requirement.  There is nothing worse than guests turning up and not being able to eat much at the retirement party.
Best Practice for Retirement Party Invitation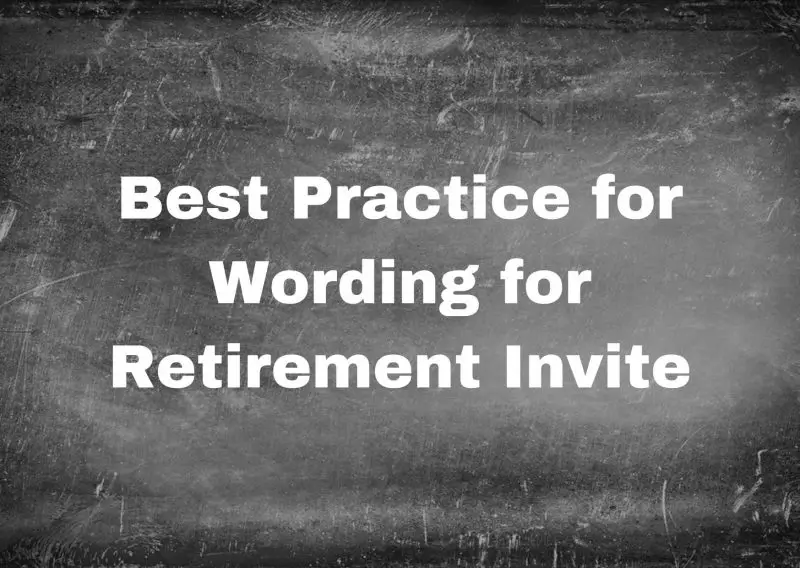 The retirement party invitation needs to match the style of the event.  The wording should reflect the tone of the party and its theme. 
If your theme is casino night, your guests should be able to see this from the invitation at first glance. You wouldn't use the same graphics and text for a friend's retirement party on a rooftop restaurant of a prestigious venue.  For more ideas about venues and other aspects of planning a retirement party, read our guide about how to plan a retirement party.
Best Practice for the Theme Wording of a Retirement Invitation
Be careful with the tone of your retirement invitation.  You cannot be too familiar if you have old work colleagues in your guest list.  It this is the case, stick to a simple polite tone.
You can add the number of years the person has worked for the same company and a few words about his devotion to the company.  For more information about writing the perfect speech for a retirement party, you can read our article about how to write the best welcome speech for retirement party.
Although, you want to avoid a tone which is too informal, it is good to add graphics representing what the retired person will enjoy once leaving work (eg. travel, golf, tennis, etc).
For a theme party, you need to design an invitation which reflects the theme.  This example below is an idea for a casino theme. The invitation wording was made with Canva in 10 minutes. For a themed party, you can use different fonts, but you need to be relatively formal to avoid embarrassing anyone.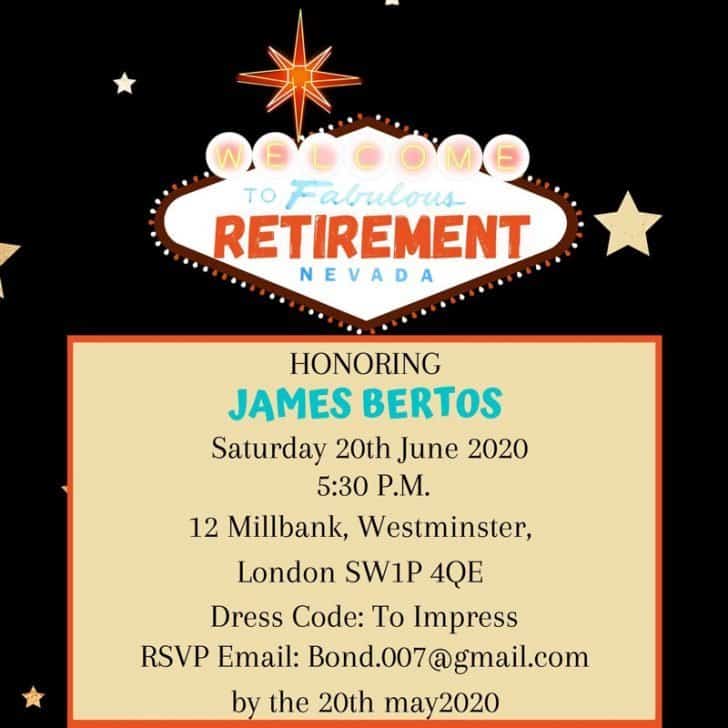 For a more formally worded invitation you may include phrases like, "You are cordially invited to join us in celebrating the retirement of James Bertos."  The wording needs to be polite and clear.
For a more casually worded invitation, you can be informal and funny, but it needs to match the tone of your party. Do not send a smart invitation for an outside barbecue.
How to Create Your Free Retirement Invitation
To save money, you can use a variety of online software. By creating your own retirement invitations, you will save money and it will be very personal.  I use Canva for all my creations.  This is an easy online tool which makes almost everything.  It is extremely easy to use it for creating wording for retirement invites.
To start with, you can use a free template and simply change the text.  Otherwise, you can start with a blank template. It is easier to use a free template at the beginning but the more you use the online tool, the more you will start from a blank canvas.
Quick Guide on How to Use Canva for Retirement Invitation
First you need to go to the Canva website
You will need to sign up to use this free tool.  To do this, you can use your email address or Facebook account.

After signing up, you will arrive at the Canva home page.

Here, you need to choose what you want to design.  For us, it will be an invitation.  Go to the search bar and type retirement.  It will automatically suggest retirement party invitation.  Click on it.

You screen will look like this:
Now choose one of the designs by clicking on them.  You will be able to change it, or you can use the blank page to start from scratch.  After choosing your design, you will be in the creation page where you can design your retirement invitation.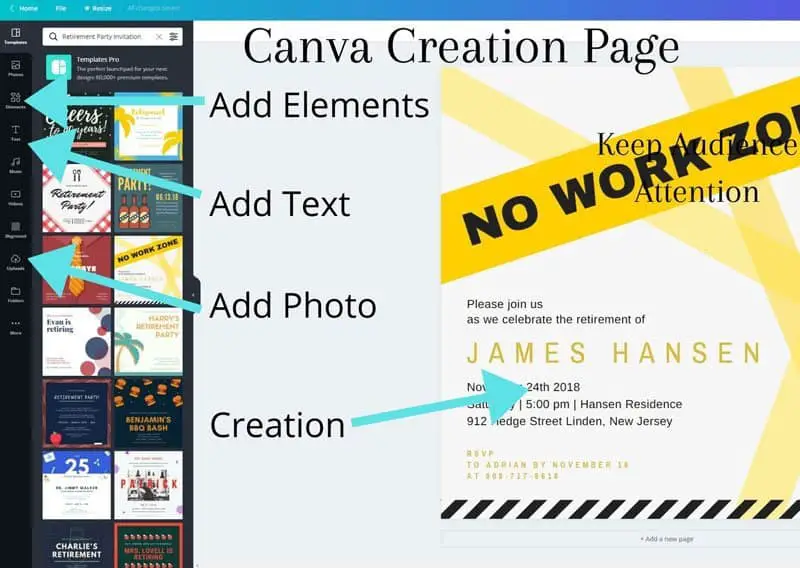 When you have finished your retirement invitation, you have the possibility of downloading it.
Do not download in PDF but JPG.  To do this, click on the little down arrow next to suggested.
Now your wording for retirement invite is created and downloaded onto your computer, you just need to print it and send it to your guests.
Here is a useful video of How to Use Canva:
Canva is a free online tool but there is a pro version. In the pro version, you will have access to all the images.  In addition, you will be able to resize your creation, create transparent backgrounds and you will not be limited by the download size.
Examples of Typical Wording for Retirement Party
Below you will find some typical examples of wording for retirement invitations:
Examples for Casual Retirement Party Invitation
If you want to throw a retirement party with friends only, there is no need to add your address and the date, because they will already know this information from you.
If you want to create funny retirement party invitation, below are few examples
Casual retirement party invitation with Friends and Colleagues
Examples for Formal Wording for Retirement Invite
Retirement Party Invitation for Teachers Example