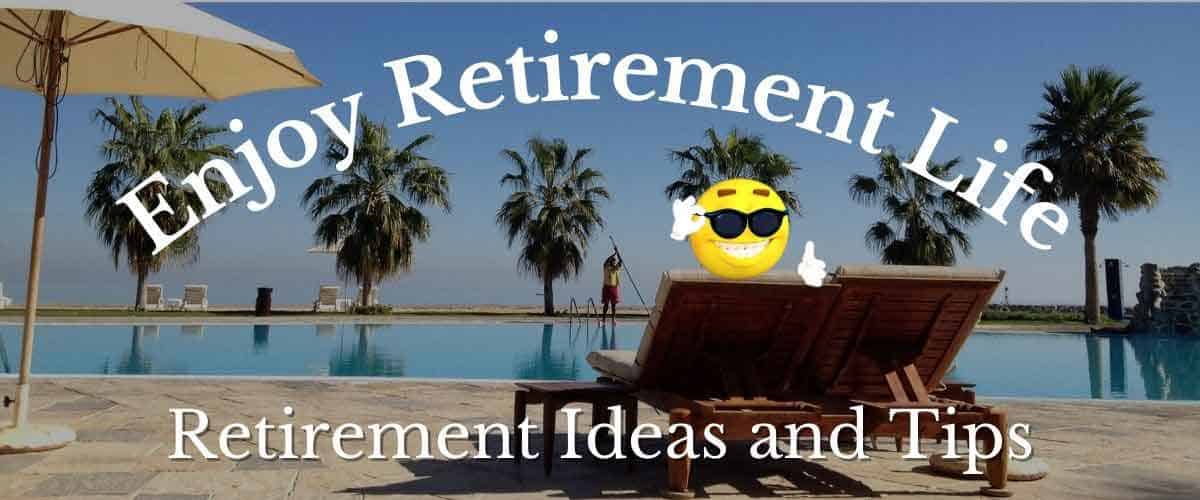 This website is here to help you make the most of the best time of your life. Our aim is to help new and established members of the retired community to Enjoy Retirement Life.
Retirement Life Can Be a Blessing for Some or a Difficult Milestone for Others.
There are six different phases in retirement life. You can compare these phases to a wedding:
The Planning Phase
The Wedding Phase
The Honeymoon Phase
The Mundane Routine Phase (so, this is it?)
The New Learning Phase
The Happy Retirement Life Phase.
You can learn more about these phases in our article about How to Enjoy Retirement Life.
No matter which phase you are currently in, you will find useful information on our website to make the most of your retirement life and get through this difficult milestone.
Who are Enjoy Retirement Life?
We are Sarah & Oliver, an English-French couple who are passionate about finding new ways to live a good life. We love to discover more about new cultures during our trips around the globe.
We started to prepare for our new retirement life 3 years ago as part of our 5 year plan. Our aim is to be able to retire as soon as possible. During our own planning phase, we have learnt a lot about how to live a successful and happy retirement life.
Our Latest Blog Posts
How We Can Help You in Your Retirement Life
To help you navigate our website, we have separated it into different sections.
In the Celebration pages you will find all you need to know about how to organise, budget and design your retirement celebration party. Topics include "How to Plan a Retirement Party", "Best Bucket List for Retirement" or "Best Retirement Food Ideas"
Retirement Tips is where you will find everything you need to fulfill your retirement life. Topics include "How to Enjoy Every Moment of Retirement Life", "81 Retirement Hobbies for men" or "How Do you Kill Time in Retirement"
The key to success is to plan your retirement in advance. For us, we started planning five years in advance. The amount of time depends on your retirement project. However, the minimum should be 1 year in advance to avoid any unwanted surprises.
If you plan to leave work and you want to benefit from the state pension, you need to consult your government website.
UK citizens can find this information here.
US citizens can find this information here.
Do not fall into the depressing Mundane Routine Phase. This can be extremely dangerous for your health. A few of my friends fell victim to this. They were continually active at work and socially but as soon they became retired everything changed for them.
Sadly, I had two friends who died after retiring. One after 6 months and the other after 2 years. They never succeeded to find the right balance in their new retirement life. This made me think how important it is to find a new life after retirement. It is possible to maintain a very good life after work.
Retirement Can Be the Beginning of an Exciting New Chapter!
Don't worry there is plenty of good news about being retired. According to the Daily Mail:
Men and Women aged between 65 to 74 are happier. (Daily Mail – Dec.2019)
Your children have left the nest, you are financially independent and you have plenty of time. This means that if you plan correctly you will live a happy retirement life. To achieve this, you definitely to find a goal and be able to answer these questions:
Who am I now?
What is my goal?
What skills do I have?
Can I share my knowledge and help others in the community?
These questions will help you to define your retirement plan. For more information, you can read our article about How to Enjoy Every Moment of Retirement Life
Sarah and I know exactly what we want for our retirement. We want to travel, backpack and discover the world even though we already travel a lot together. We love to share our knowledge and experience.
For my parents, it was having a shared project of building a new home in the south of France. For my parents-in-law, it was setting up an online photography portfolio, socialising and travelling as much they can. They love cruise ships!
I'm going to say it again but this is the key to success. YOU NEED TO FIND A GOAL!
We are here to help you with all your questions. You can contact us or just open a discussion below any of our posts.
All the help you will find in this website is completely FREE. We use our time to update it regularly with new content. To receive the latest information, please subscribe to our newsletter via email.